Speak-Out Series - Soul Love!
It's the Kirby book that never existed, but which I've long wanted to have. In a brilliant tour de force John Morrow and his mates at Twomorrows Publishing have reached back into the misty depths of comic book history and corrected a mistake made by DC when they failed to publish the mostly ready
Soul Love
magazine, part of Jack Kirby's "Speak-Out Series". The stories were written, drawn and in some cases inked but the enigmatic leadership at DC kiboshed the deal before it could reach fruition.
Soul Love
was the magazine DC said it wanted when they blinked at Kirby's proposed True-Life Divorces offering. But then they blinked again and we were robbed of seeing how the "King of Comics" dealt with the day-to-day culture of African Americans in the early 1970's. You might think us all spared the indignity when a middle-aged Jewish man tried to plumb the inner thoughts of young black men and women. But Kirby gave it a go and John Morrow has finished the thought. It's far from perfect, just what you'd expect in so many ways, but still and all it's part of the lore of comic book days gone by and I for one am delighted to have gotten the chance to read it.
"Fears of a Go-Go Girl" is a pretty rough outing with the titular young woman torn between an unreliable fellow who might do her career some good to boot and the quiet and somewhat mysterious man who watches over her. It's not a story about stalking, though with a quick twist it could be. Instead it's a much less contrived romance than many of the ones to follow.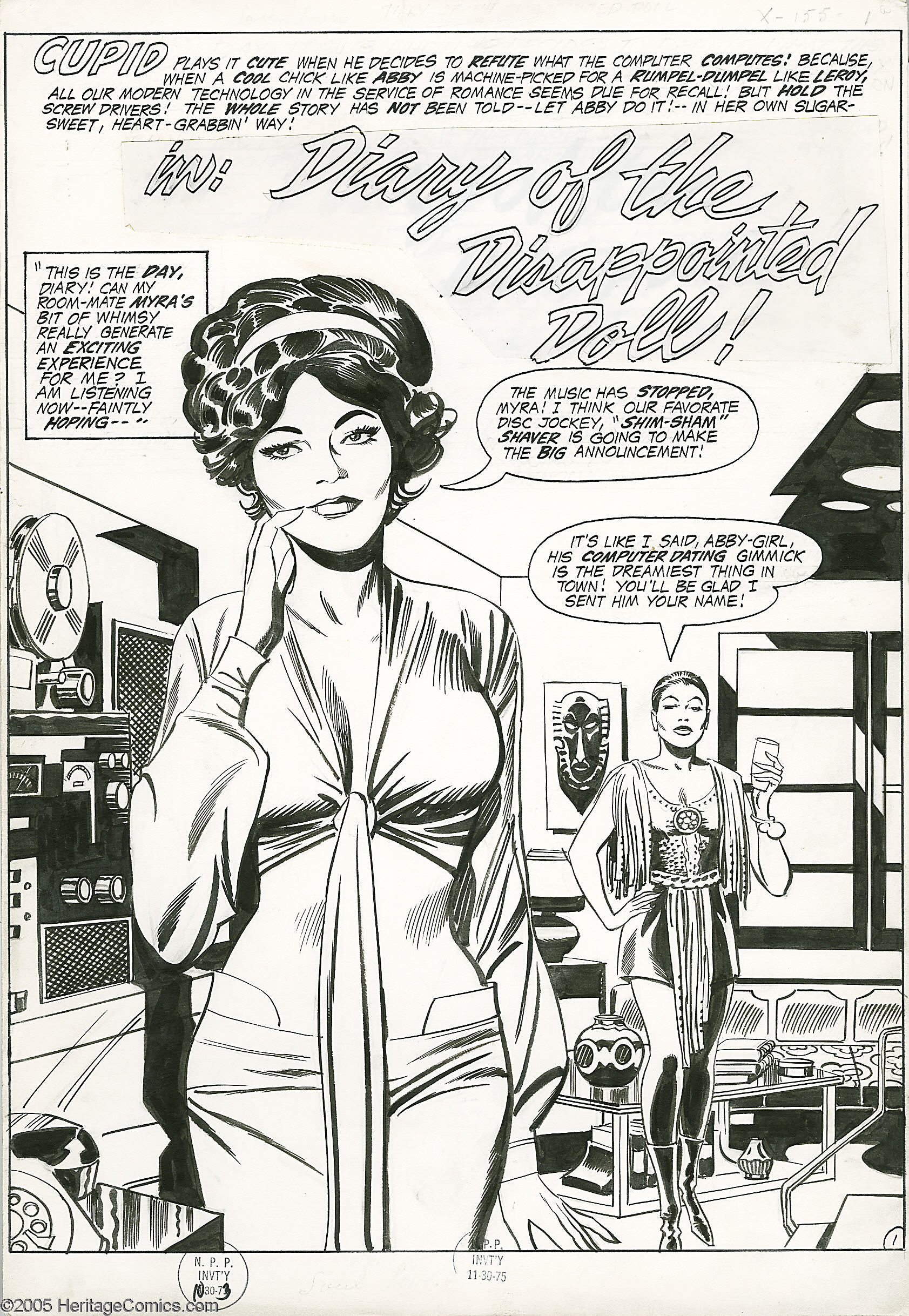 Vince Colletta inked most of these stories, but "Diary of a Disappointed Doll" was done by Tony DeZuniga and it makes yearn to have seen more of him on Kirby's work. But the art aside we have a dame here who gets a date from a radio station by dint of computer, and it's not what she expects in so many many ways.
"Dedicated Nurse" is a pretty uncomfortable story, certainly a product of a time when despite the myriad shapes, sizes and weights humans have always had, the ideal is the preference even at the cost of the what is really real. I'm not sure I liked this story much, it's resolution felt really off base.
"Old Fires" is little two page vignette has some really nifty moments, well really moment. It's a conversation in which truth emerges, not something talking usually does. I liked it a lot.
The Twomorrows folks left this story in its raw form. "The Teacher" shows the lengths gone to in attempting to transform the distinctiveness of Kirby's work into the typical DC patterns. The irony is rich in that the black faces in this story have been "whited out" extensively to make the DC folks happy. I've never heard of "White Face" before, but we might have an example here.
Soul Love is available in two formats, as part of the Dingbat Love hardcover (how I have it) and as a standalone issue attempting to mimic the look of the magazines original intent. Those latter ones are produced in very limited supply, so move quickly if that's your desire. I'll keep what I have -- a new Jack Kirby magazine. Hooray!
Rip Off